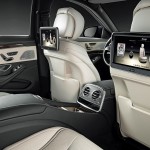 The industry could struggle to source enough chips  throughout next year and into 2023, said Kallenius,
VW procurement chief Murat Aksel said Semiconductor supply remains very volatile and tight in the third quarter.
"We hope for a gradual recovery by the end of the year," Aksel told reporters on Sunday.
The auto industry worldwide would need roughly 10 percent more production capacity for chips, he said.
it is estimated that the auto industry will lose production of five million vehicles and sales worth $100 billion this year because of the effects of covid and the chip shortage.