The company is giving very little away beyond this, except to say that the "MEMS scanner chipset features a tilting mirror which lays the foundation for a new generation of laser beam scanner projectors", and that the chipset is a MEMS mirror and a MEMS driver.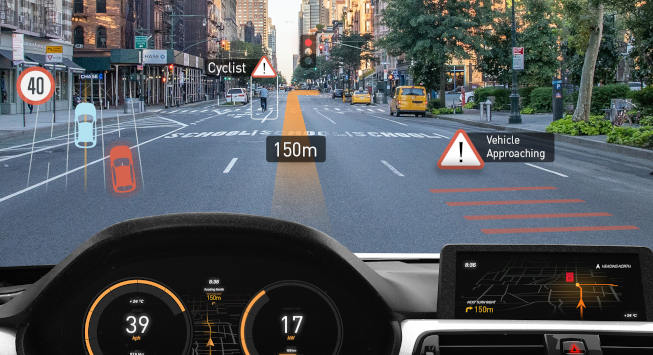 For automotive "conventional HUD systems can be more than 30 litres in optical volume, yet still offer only a very modest field of view", said the company, claiming: "By contrast, laser beam scanners based on Infineon's MEMS scanner chipsets enable HUD systems with minimum optical volume, so they can be integrated into even the smallest dashboard."
For AR glasses (top photo), it is collaborating with Vienna-based start-up TriLite Technologies, where TriLite is responsible for system integration and control algorithms.
TriLite's scanner
According to TriLite, its 'Trixel' scanner contains "a single state-of-the-art 2D MEMS mirror, doing away with the need for complex Relay optics between the mirror and waveguide-holographic input. TriLite's patented laser pulse timing algorithms enable the perfect overlapping of RGB colour channels, eliminating image distortions. Shifting complexity from hardware to software is one more way Trixel achieves a small form factor."
TriLite has its own laser light source module (left) with custom-designed micro-lenses for augmented reality.
Electronics Weekly has requested further information from Infineon.