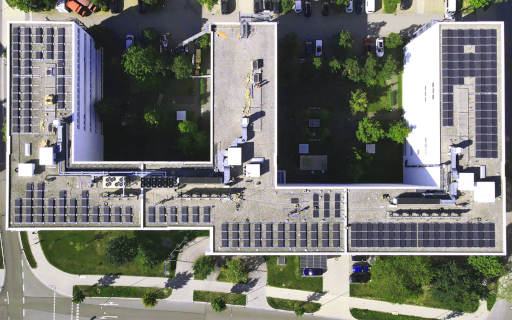 Constructed by Vispiron Energy, the array consists of 570 Panasonic HIT N 325 photovoltaic modules, each rated at 325W and installed east-west at 10° elevation. Total area is 900m2.
13 tonnes of material were applied to the roof, including mountings from K2 Systems, producing ~20kg/m2 loading which did not require roof renovation or stabilisation.
Annual yield of the PV system, according to Panasonic, is calculated at 185MWh: "On an ideal sunny day, the solar power can completely supply the building according to simulations. Over the course of the year, Panasonic will be able to cover just under 20% of its electricity needs at this location with the PV system."
Battery-storage was not installed as the solar power can be consumed as it is generated or fed into the local grid. Energy management is built into four SMA Solar Technology inverters, which are together rated at 150kW.
22 Panasonic 'Eco-Power Meter' energy monitors have been installed to measure the building's: electric vehicle chargers, LED lighting, ventilation, district heating, servers, air conditioning and car park ramp heater.
These serve their data as web pages over Ethernet connections, allowing "us to detect higher-than-average energy consumption and take appropriate power-saving measures", said company engineer Bin Zhou.
Around 630 Panasonic employees work in two buildings at the location. The Ottobrunn team is considering putting a photovoltaic system on the second building, which could accept ~400 panels.
There is an associated video