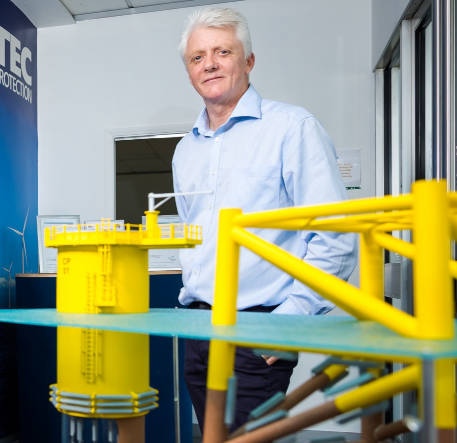 "We're delighted to win these latest contracts, it's great news for South Tyneside, the North East and the UK," said Metec commercial manager Graeme Crow (pictured). "Offshore wind projects and developments at the Port of Tyne and many other ports and harbours around the UK and Ireland over the next decade will lead to many more opportunities."
Established four years ago with an initial investment from Italian owners, the company grown from six people to 45, with turnover increasing from £5.2m in its first year to £8.6m in 2020. It has invested over £4m in premises and furnaces since 2017. Revenue growth will exceed its original target of 5 – 7% for the year 2020/2021, it said.
The latest deals follows a number of contracts wins in December 2020 – one off the coast of Scotland and two off-shore sub-station jackets off the coast of France and Holland.
Metec UK designs, manufactures, installs and provides onsite services for off-shore oil, gas and renewables; ports and harbours; ship build and repair; and petrochemical industries. It has UKAS ISO 14001:2015 environmental certification for minimising environmental impacts, ISO 45001:2018 health & safety certification and ISO 9001:2015 quality management certification. Metec Group has a weekly casting capacity of over 100 tonnes of aluminium and zinc. It has manufacturing facilities in South Shields and Tunisia.
Sacrificial anodes are used for long-term protection of offshore steel jackets and foundations against corrosion.